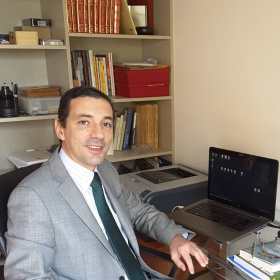 Miguel Sotto-Mayor Negrão
International fellow
negrao@fscire.it
Tema di ricerca
Secolarismo, religione e pace.
Formazione ed esperienza accademica e professionale
Miguel Sotto-Mayor Negrão dopo la laurea in Relazioni Internazionali, nel 2004 ha ottenuto il diploma di Dottorato in Storia della Chiesa presso la Pontificia Università della Santa Croce, a Roma. È ricercatore del programma di dottorato in Politica Internazionale e Risoluzione dei Conflitti del Dipartimento di Economia e Studi Sociali dell'Università di Coimbra e borsista della FCT – Fundação para a Ciência e Tecnologia.
Pubblicazioni in evidenza
Monografie
M. Negrão, A época de D. Manuel I de Portugal e Afonso I do Congo. O encontro da Cristandade Portuguesa com o antigo Reino do Congo, Roma, Pontificia Università della Santa Croce, 2004
Articoli
M. Negrão, "The Clash of Civilizations?": reality or approach 25 years later. Review of Samuel Huntington's idea of identity, ethnicity and religion from several theoretical stances, «Cabo dos Trabalhos», 18.
M. Negrão, O contributo de Teobaldo Filesi para o Conhecimento do Antigo Reino do Congo, «Euntes Docete», 57,2, 2004, pp 133-140.
M. Negrão, Concordata entre a Santa Sé e a República Portuguesa, «Ius Ecclesiae», XIII, 3, 2001 pp 807-809.
Conferenze, seminari e workshop
13 luglio 2021, Critical Edge of Contemporary Catholic Peacebuilding in New Nationalisms,Open World - 26th World Congress of Political Science International Political Sciences Association, Lisbona (Digital).
14 maggio 2019, Secularismo, Religião e Paz: que papel para o catolicismo na consolidação da paz pós conflito?, A religião nas Múltiplas Modernidades Rede de investigadores "A religião nas Múltiplas Modernidades" (ReliMM), Coimbra.