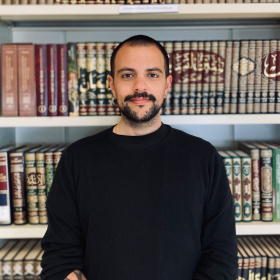 Andrea Amato
PhD student
amato@fscire.it
Research interests
History of the Golden Horde and the Crimean Khanate.
Education, academic and professional experience
In May 2020 he completed the PluReS Master – Religious pluralism and historical knowledge – held at FSCIRE.
In November 2019, he obtained his Master's degree cum laude at the University of Bologna in Historical and Orientalist Sciences with a thesis on Islam and the History of Islamic Art, entitled Il processo di acculturazione nell'Eurasia del X Secolo: Tracce e testimonianze arabo-musulmane nell'Europa norrena alla luce del rituale funebre rūs (supervisor: prof. Mattia Guidetti; co-supervisor: prof. Caterina Bori).
In December 2016 he graduated in History at the University of Milan with a thesis on Medieval and Modern Numismatics, entitled L'uso della lingua araba nella monetazione dell'Italia normanna, (supervisor: prof. Lucia Travaini).
Publications
A. Amato, Shahāda, martelli di Thórr, croci e swastike: i darāhim come talismani nell'Eurasia del X secolo, in «Rivista di Studi Indo-Mediterranei», 10 (2020), http://kharabat.altervista.org/rsim-x-2020-.html.