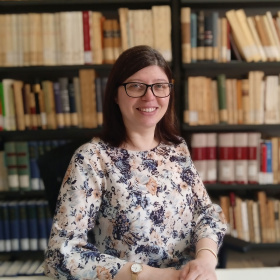 Gabriella La Mendola
PhD student
lamendola@fscire.it
Research interests
The homiletic literature of Pope Roncalli.
Education and academic experience
On 27 November 2020 she discussed her doctoral thesis in Theology Lo stile pastorale in papa Roncalli e la sua recezione nel vaticano II. Teologia e spiritualità di un nodo ecclesiologico del XX secolo at the Pontifical Antonianum University in Rome.
She graduated in Philosophy from Catania University on 25 March 1999 with the thesis Il problema etico in Bruno Forte. Racconto dell'amore inquieto tra Dio e l'uomo. She obtained her Bachelor's degree in Theology at the Studio teologico S. Paolo in Catania on 7 October 2011 writing a dissertation on: Voi sarete per me un regno di sacerdoti (Es 19,6). Proposta e prospettive a partire dal Vaticano II; she obtained her licentiate in Spiritual Theology, at the Studio teologico S. Paolo in Catania, on 14 February 2014, writing a dissertation on Il tema conciliare dell'universale chiamata alla santità nel magistero dei papi Paolo VI e Giovanni Paolo II.
She belongs to the religious Institute Famiglia Ecclesiale Missione Chiesa-Mondo and she is a teacher of History and Philosophy at the state High School Gulli e Pennisi in Acireale (Catania).