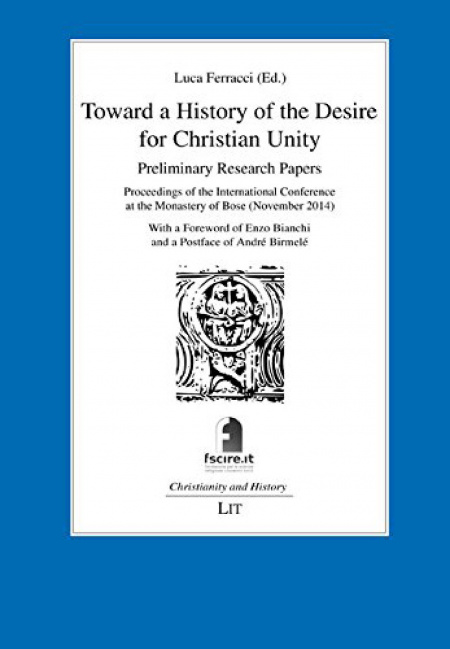 Toward a History of the Desire for Christian Unity
Preliminary Research Papers
LUCA FERRACCI
Christianity and History. Series of the John XXIII Foundation for Religious Studies in Bologna 14
LIT, Münster, 2015
pp: 284
Digital € 34.90
Paper € 39.90
ISBN: 9783643906847


Proceedings of the International Conference at the Monastery of Bose (November 2014). With a Foreword of Enzo Bianchi and a Postface of André Birmelé.
A comprehensive work on the Christian Call for Unity has still to be written: it requires an analysis of the doctrinal elaborations and theological languages; a collection of individual and generational developments; a focus on ecclesiastical and institutional patterns, and an historical connection between ecumenism, politics and diplomacy. A number of scholars attempt to fill this gap: historians, theologians and members of several Christian denominations present their researches focused on the search for Christian unity and its history. The aim is to create a scientific network and to launch an international research program on the history of ecumenism in the 19th and 20th Century. This book presents the first results.
Luca Ferracci is a member of the John XXIII Foundation for Religious Studies in Bologna where he is involved in the international research program on the history of ecumenism.