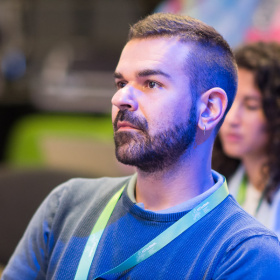 Gianmarco Braghi
Affiliated researcher
braghi@fscire.it
Tema di ricerca
I sinodi delle chiese riformate.
Formazione ed esperienza accademica e professionale
Dalla fine di dicembre 2021 è ricercatore a tempo determinato in Storia del cristianesimo e delle Chiese (M-STO/07) presso l'Università degli Studi di Palermo.
È coordinatore dell'Alta Scuola europea di scienze religiose Giuseppe Alberigo e curatore del volume VI della collana COGD: Conciliorum œcumenicorum generaliumque decreta.
Dal novembre del 2017 al dicembre del 2021 è stato assegnista di ricerca senior presso FSCIRE.
Nell'anno accademico 2013-2014 ha svolto due soggiorni di ricerca semestrali a Parigi e a Ginevra. Presso l'Université de Genève è stato borsista Georges et Pierre Regard all'Institut d'Histoire de la Réformation.
Nell'anno accademico 2014-2015 è stato membro del Trinity Long Room Hub Arts and Humanities Research Centre e ha lavorato come teaching assistant per il Dr Graeme Murdock nell'ambito del corso Europe c.1500-c.1700: Power and Belief. Dopo aver difeso con successo la sua tesi, è stato proclamato Philosophiae Doctor nel giugno del 2016.
Nell'estate del 2012 ha vinto una postgraduate studentship triennale dell'Irish Research Council (An Chomhairle um Thaighde in Éirinn) e nel settembre 2012 ha iniziato i suoi studi dottorali presso il Dipartimento di storia del Trinity College Dublin sotto la supervisione del Dr Graeme Murdock. La sua tesi di dottorato, intitolata The Evolving Character of the French Reformed Movement, c.1555-c.1572, concerne lo sviluppo delle prime chiese calviniste in Francia, la prima generazione dei pastori che servirono in queste congregazioni, e le relazioni che si instaurarono tra queste ultime e la repubblica di Ginevra, la sua Venerabile Compagnia dei Pastori e i moderatori di quest'ultima, Giovanni Calvino e Théodore de Bèze.
Ha studiato storia presso l'Università degli Studi di Milano La Statale. La sua tesi magistrale, discussa nella primavera del 2012 e intitolata La guerra dell'inchiostro. Propaganda politica e religiosa in Francia sotto il regno di Carlo IX di Valois, 1560-1574, è stata redatta sotto la guida della Prof.ssa Claudia di Filippo Bareggi (relatrice) e della Prof.ssa Susanna Peyronel Rambaldi (correlatrice).
Pubblicazioni
Monografie
G. Braghi, The Emergence of Pastoral Authority in the French Reformed Church, c.1555-c.1572, Leiden, Brill, 2021.
G. Braghi, M. Alvarez González, S. Zuffi, Farnese. Duchi di Piacenza e di Parma, signori del Rinascimento e del Barocco, Milano, Skira, 2013.
G. Braghi, L'Accademia degli Ortolani (1543-1545). Eresia, stampa e cultura a Piacenza nel medio Cinquecento, Piacenza, Lir, 2011.
Articoli
G. Braghi, The Monsters of Gaul: The Implications of the Concordat of Bologna (1516) for French Episcopal Elections, «Cristianesimo nella storia» 42, 2 (2021), pp. 451-475.
G. Braghi, La Riforma nel Cinquecento e i suoi «eretici per tutti», «Nuova Secondaria» 37, 10 (2020), pp. 36-38.
G. Braghi, «Confessioni vestrae nonnulla visum est addere, perpauca vero commutare». L'approbation de la Confession de foi des églises réformées de France, mai 1559, «Études théologiques et religieuses» 94, 3 (2019), pp. 427-449.
G. Braghi, «Imprimée de différentes manières»: The Gallican Confession and its First Printed Editions (1559?-1561), «Zwingliana» 46 (2019), pp. 45-72.
G. Braghi, Between Paris and Geneva: Some Remarks on the Approval of the Gallican Confession (May 1559), «Journal of Early Modern Christianity» 5, 2 (2018), pp. 197-219.
G. Braghi, The Civil Magistrates of Geneva and the Placement of Pastors in France on the Eve of the First War of Religion (1562), «Journal of Early Modern Christianity» 4, 1 (2017), pp. 91-111.
G. Braghi, Riforma e censura sinodale nella Bassa Linguadoca del XVI secolo. Un documento ritrovato sul caso di Jean Mutonis, «Bibliothèque d'Humanisme et Renaissance» 77, 2 (2015), pp. 371-382.
G. Braghi, The Death of Charles IX Valois: An Assassin's or a Martyr's Blood? The Image of Kingship during the French Wars of Religion, «Oxford Journals – French History» 28, 3 (2014), pp. 303-321.
Curatele
È co-curatore dei volumi 6 e 7 dei Conciliorum Oecumenicorum Generaliumque Decreta (Corpus Christianorum), Synods of the Churches of and after the Reformation.
Recensioni
The Protestant Reformation in a Context of Global History: Religious Reforms and World Civilizations, ed. by H. Schilling, S. Seidel Menchi, Bologna, Il Mulino, 2017, in «Cristianesimo nella storia» 41, 1 (2020), pp. 398-399.
Conferenze, seminari e workshop
20 ottobre 2019, Persecution, Fortitude, and Hope: A Forgotten French Reformed Consolation Pamphlet (Strasbourg, 1560), panel Analyzing the Art of Writing: Humanism, Historiography, Consolation, Sixteenth Century Society & Conference, St Louis, Missouri.
6 marzo 2019, Regal Power and Political Sedition in Enrico Caterino Davila's Historia delle guerre civili di Francia, panel Wars of Religion / The Religions of War, European Academy of Religion Annual Conference 2019, Bologna, invited paper.
2018, Use and Study of Special Documents', E-Review. Rivista degli Istituti Storici dell'Emilia Romagna in Rete (6/2018), The ReIReS Workshops, https://e-review.it/braghi-workshop-di-reires
7 dicembre 2018, Of Coded Language and Ornate Letters: Reassessing the Approval and Disclosure of the Gallican Confession (1559-1561), Interdisciplinary Practices and Epistemic Transfer in the Reformation Period: Case Studies, workshop Episteme in Bewegung. Wissenstransfer von der alten Welt bis in die frühe Neuzeit, Freie Universität Berlin, Berlino, invited paper.
7 settembre 2018, «Ce spectacle est bien propre à instruire ceux qui le considèrent de sens froid»: Enrico Caterino Davila and his Historia delle guerre civili di Francia, colloque international Se souvenir des guerres de religion / Remembering the French Wars of Religion, Institut Protestant de Théologie, Montpellier.
25 maggio 2018, Beyond Catechisms and Calvin's Institutio: Pierre Viret (1511-1571) and the Exposition familiere as an Educational Literary Genre', Reformation and Education, Eighth Annual RefoRC Conference, Wydział 'Artes Liberales', Uniwersytet Warszawski, Varsavia.
17 marzo 2018, Le ministère réformé et la construction de l'identité religieuse des huguenots de France, c.1555–1572, journée d'étude Controverse, engagement, identité. Nouvelles recherches sur le protestantisme au XVIe siècle, Institut Protestant de Théologie, Paris, invited paper.
6 marzo 2018, Between Cateau-Cambrésis and the Treaty of the Pyrenees, 1559-1659: A Century of Religious Accommodation and raison d'état in the Kingdom of France, panel 1618-2018: The Wars of Religion as a Historical Issue in the Fourth Centenary of the Thirty Years' War, European Academy of Religion Annual Conference 2018, Bologna, invited paper.
6 dicembre 2014, La première génération de pasteurs réformés en France au seizième siècle: enjeux politiques et religieux d'une nouvelle élite, Journée Doctorale du Groupe de Recherche en Histoire des Protestantismes, Bible, histoire et diplomatie (XVIe-XXIe siècles), Institut Protestant de Théologie, Paris, invited paper.