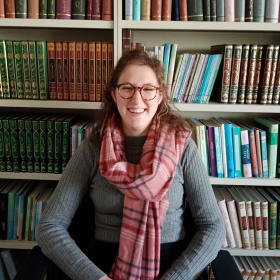 Francesca Badini
PhD student
badini@fscire.it
Research interests
The Tafsīr al-mawḍūʿī written by Muḥammad al-Ghazālī (1917-1996), supervised by prof. Johanna Pink.
Education, academic and professional experience
In 2018, she graduated in History and Oriental Studies at the University of Bologna; she discussed a thesis in Islamic Studies entitled Le pie Madri della Nigrizia e i Comboniani prigionieri della Mahdiyya (1881-1898): memorie ed epistole (supervisor prof. Caterina Bori; co-supervisor prof. Elena Vezzadini).
In 2015, she graduated in Philosophy at the University of Trento; she discussed a thesis on Islamic thought entitled Martirio nobile e martirio terroristico: il ruolo del fenomeno migratorio nell'Islam contemporaneo (supervisor prof. Massimo Campanini; co-supervisor prof. Francesco Ghia).
Featured publications
Articles
F. Badini, I cinque pilastri dell'Islam, «Nuova Secondaria» 7 (2020), pp. 45-48.
F. Badini, Il Corano. Una breve introduzione al testo sacro dell'Islam, «Nuova Secondaria» 3 (2019), pp. 56-59.
Chapters in books
F. Badini, F. Cargnelutti, Gli animali nel Corano: il rapporto fra Allah, uomo e natura, in Religioni e animali, ed. I. D'Isola, Turin, Claudiana, 2020, pp. 45-64.
Dictionary/encyclopedias/catalogs entries
Tarditi Ildefonso, in Dizionario Biografico degli Italiani, vol. XCV, Rome, Treccani, 2019, https://www.treccani.it/enciclopedia/ildefonso-tarditi_(Dizionario-Biografico)
Reviews
C. Gualtieri, Utopia in the Present, Berlin, Lang, 2018, in «Storia del Pensiero Politico» 3 (2018).
Conferences, seminars and workshop
Dicembre 2020, The Qurʾanic Commentary of Muḥammad al-Ghazālī (1917–1996): Introduction to the Tafsīr and Analysis of Q. al-Nisāʾ 4:2–4, IQSA, Boston.