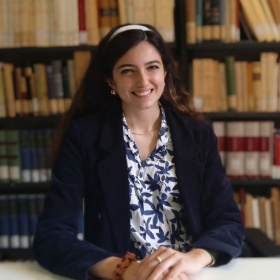 Lucia De Lorenzo
PhD student
delorenzo@fscire.it
Research interests
Medieval Canon Law, Medieval Ecclesiology.
Education, academic and professional experience
In May 2020 she completed the PluReS Master – Religious pluralism and historical knowledge – held at FSCIRE.
In March 2020 she obtained a Master's degree in Archeology at the University of Bologna, with a thesis on Christian Literature entitled Gerusalemme nella Peregrinatio Egeriae. Aspetti archeologici e performativi di una liturgia stazionale (supervisor: Prof. Antonio Cacciari; co-supervisor: Prof. Lorenzo Perrone).
In February 2017, she graduated in Classical Literature at the Aldo Moro University of Bari with a thesis on Latin Literature entitled Donne che raccontano, che imbrogliano, che incantano nel romanzo petroniano (supervisor: Prof. Rosa Alba Dimundo).