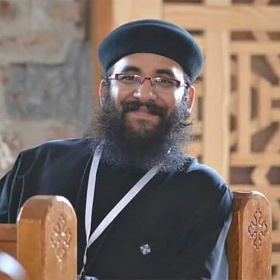 Giovanni Beshai
International fellow
beshai@fscire.it
Research interests
History of the Coptic Church; history of early Christianity; history of the councils.
Education, academic and professional experience
He graduated in Egypt at College of Education - University of Aswan in 2002. In 2007 he received his Bachelor's degree in Theological Sciences at Pope Shenouda III Theological College in Luxor.
He was ordained a priest in the Coptic Orthodox Church in 2007.
He attended three Italian language courses, one intensive at the Dante Alighieri Society (June 2016), one semester at the University of Bologna (I semester 2017-2018), a second semester at the Modern English school (I semester 2018-2019).
He is currently attending the two-year licentiate program at the Theological Faculty of Emilia-Romagna.