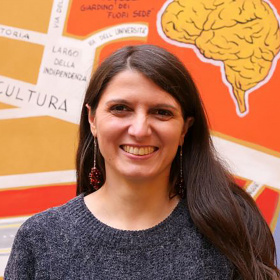 Marianna Napolitano
Affiliated researcher
napolitano@fscire.it
Tema di ricerca
Le relazioni tra chiesa e stato in Russia.
Formazione ed esperienza accademica e professionale
Nel 2021 ha ottenuto il diploma di perfezionamento scientifico presso l'Alta scuola europea di scienze religiose Giuseppe Alberigo (FSCIRE), con la tesi intitolata The History and Policy of the Department for External Сhurch Relations of the Moscow Patriarchate: The case Of Ukraine (1989-2009).
Ha studiato presso l'Università di Napoli L'Orientale; nel 2015 ha completato la sua tesi di laurea magistrale (relatore: professor A. Pierucci, correlatore: professor F. Bettanin) nella quale ha analizzato i concetti di modernità, modernizzazione e democrazia nell'Unione Europea e nella Federazione Russa nell'età contemporanea. Nell'anno accademico 2013-2014, nell'ambito di un programma di scambio promosso dal Ministero degli Affari Esteri e della Cooperazione Internazionale, ha trascorso tre mesi presso la Lomonosov Moscow State University. Inoltre ha svolto un tirocinio (Erasmus placement) presso il Centre for EU-Russia Studies (Università di Tartu) dove ha collaborato con il Professor E. Berg alla sua ricerca sugli stati de facto, e sulle relazioni della Transistria e di Taiwan con gli Stati Uniti.
Dal 2015 al 2016 ha lavorato presso l'Istituto Italiano di Cultura di Lubiana, inizialmente come tirocinante nell'ambito del programma Erasmus Trainership, e successivamente come collaboratrice responsabile della gestione della biblioteca, e dell'organizzazione dei corsi di lingua. Nel 2017 ha svolto un tirocinio di due mesi presso FSCIRE dove ha collaborato con Davide Dainese al lavoro sui volumi IV/1, IV/2, IV/3 del Conciliorum oecumenicorum generaliumque decreta.
Ha svolto due periodi di studio nel 2018 (tre mesi) e nel 2019-2020 (undici mesi) presso il Center for the Study of Religion della Russian State University for the Humanities.
Pubblicazioni
Articoli
M. Napolitano, Church-State Interplay in Post-Soviet Russia and the Image of the West, «Russian Journal of Political Studies» 5, 1 (2019), pp. 14-21.
Contributi in volume
M. Napolitano, The Bolshevik War against Religion, in War and Communism, ed. by T. Hirschmüller, F. Jacob, Leiden, Brill, in corso di pubblicazione.
M. Napolitano, Interreligious and Interfaith Dialogue in Post-Soviet Russia: Debates about Secularism and Post-secularism, in Annual Review of the Sociology of Religion, vol. X, Interreligious Dialogue: From Religion to Geopolitics, ed. by G. Giordan, A.P. Lynch, Leiden, Brill, 2019, pp. 181-197.
Conferenze, seminari e workshop
9-11 gennaio 2020, Soviet Religious policy in Ukraine: The Orthodox Church and the Revolution, 1917-1928, Panel Religion and Daily Life, Conferenza Study Group On The Russian Revolution XLVI, Annual Conference, Università di Lovanio, Lovanio.
20 dicembre 2019, Le Chiese nella crisi di Majdan, Seminario Crisi Ucraina, con Sergei Chapnin (VU Amsterdam), FSCIRE, Bologna.
1-2 ottobre 2018, "Traditional values" versus "Human rights" – Exploring the debate, in qualità di Respondent alla presentazione Traditional Values in the context of multiple moralities (in Russia), E. Stepanova (Ural Branch Academy of Sciences, Russia), Amsterdam, Università Teologica Protestante (PThU).
1- 4 dicembre 2019, The Russian Language Ambassadors in the World project and the Cultural Diplomacy of the Russian Federation, Panel Methodological workshop 1. "Where and how should we speak mother tongue", UNESCO Chairs Conference, Dialogue of Civilizations and Cross-Cultural Cooperation. Multilingualism as a factor to maintain the ethno-cultural diversity: educational strategies", Università Pedagogica di Mosca, Mosca.
9-11 giugno 2019, Church-State interplay in Post Soviet Russia, and the Image of the West. Panel, Religion, Society and Politics, Forth Annual Tartu Conference on Russian and East European Studies, Communities in Flux: Rethinking Sovereignty and Identity in an Era of Change, Università di Tartu, Estonia.
24 ottobre 2017, Religion and the Russian Revolution, Conference Reformations, Modernities, Orthodoxies: International Colloquium, The Institute for the Study of Culture and Christianity, Roma.